Thanks for stopping by!
As you check out my website, I hope to entertain you with short essays in my blogs and trust you will continue to follow my writing.
There are some exciting things in store, such as the coming release of my first novel, Shevivor. The image below is a preliminary sketch of the Shevivor cover that was adapted from my original concept by Angela Collier. Angela graduated from the University of Wisconsin – Green Bay with a degree in graphic arts. Wait until you see the final work.
News Update: I was elected president of Shawano Area Writers at our April 2018 meeting. Excited about the opportunity! Our next meeting is Thursday, September 20th, if you'd care to join us at the Shawano Public Library in the Elsie Engel Reading Room downstairs. Our meetings start at 10:00 a.m., so feel free to stop by and see what we're all about.
On the recommendation of my friend and fellow writer, John J. Mutter, Jr., I have joined the Wisconsin Writer's Association. John and I plan on attending the state convention September 21st and 22nd in Brookfield.
I am also a member of the Green Bay Area Writer's Guild which meets the 1st Tuesday of the month at 6:00 p.m. in the Board Room of the Brown County Central Library in downtown Green Bay. Join us!
In my career I have put more than one million words on paper or hard drive, so stay tuned for more of my work.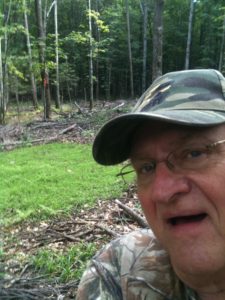 The image is a selfie showing off a successfully planted food plot for wildlife in the woods of Wisconsin. I do enjoy the outdoors.
Enjoy!