Thanks for stopping by!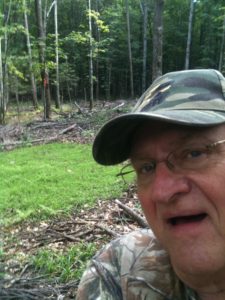 As you check out my website, I hope to entertain you with short essays in my blogs and hope you continue to follow my writing.
If you're near Green Bay on April 19th, 20th, 21st, or 22nd this year, check out the Untitled Town Book & Author Festival. I'm participating in the Shawano Area Writers' panel discussion on Friday night, April 20th, starting at 6:00 p.m. in the Auditorium of the Brown County Central Library. Join me and some other authors!
In my career I have put more than one million words on paper or hard drive, so stay tuned for more of my work.
This is an image of me showing off a successfully planted food plot for wildlife in the woods of Wisconsin.
Enjoy!